The Variety Show of Life
Admittedly I struggled to come up with a title for this post. I'm new to this blog thing so I'm playing the rookie card. Besides, this is an informal place for me to post about what I've seen while out exploring my surroundings. So no pressure.
What an interesting walk around the city today turned out to be. I've been wanting to to check out The Promenade Fleuve-Montagne for some time and today was the day for that to happen. The Promenade Fleuve-Montagne is a 3.8 km pedestrian walkway that connects Mount Royal to Montreal's Old Port. I had no intention of climbing the 100,000 steps to get to the top of Mount Royal, but I was there and I had not been to the cross in a long time. I started climbing.
I sat under the cross sweaty from the climb. I just sat there. Calm. In silence as tourists passed. For reasons I'll never know, I felt I needed to be there.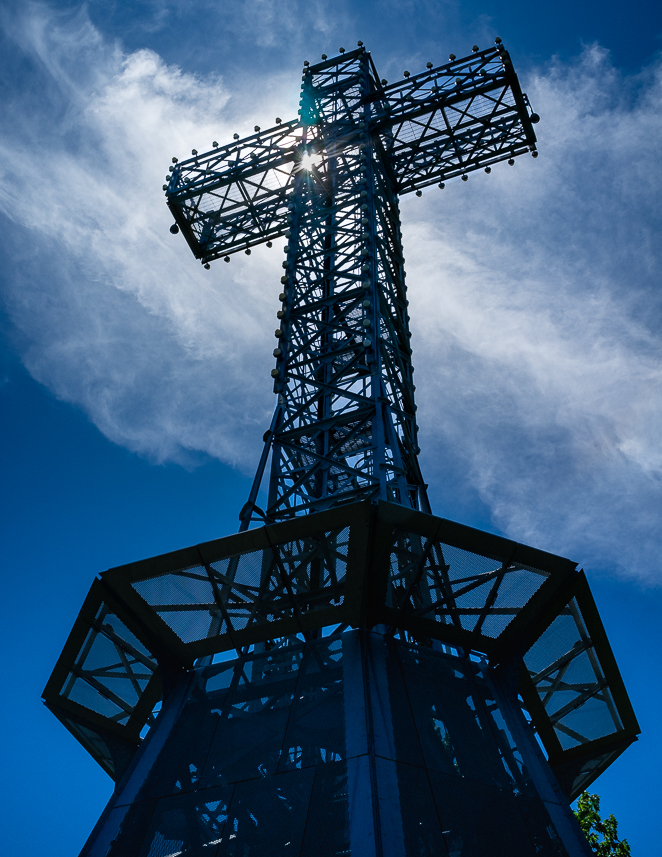 I headed down the 100,000 steps to begin my stroll down The Promenade Fleuve-Montagne after spending a couple hours at the top. I stopped off at Victoria Square to people watch by the fountains. In case you're wondering, sitting by fountains is the best place to people watch aside from airports. Cheaper too.
This is when things got a bit weird.
I was sitting there watching the bike police hand out jaywalking tickets when I heard a loud bang behind me. I slowly turned to take a look. A lady jumps out of her car and begins screaming at the guy who just rear-ended her. A passer-by waves over the bike police to assess the situation. As the police ask the drivers to move their cars to prevent a traffic jam, a taxi driver opens his door, a lady on a bike slams into the door, the bike stops while the lady goes airborne over her handle bars onto the pavement. She stood up, brushed herself off and rode away. I sat there with my mouth hanging open asking myself what the hell just happened.
For an enhanced experience read that last paragraph in slow motion.
I decided it was time to move on.
When I reached the old port I found a vacant bench. I sat down and began another people watching session. As I was sitting there making up the life stories of everyone who passed by, I started hearing yelling behind me. At first I didn't think anything of it, but the yelling continued. I turned to see what was going on as an older gentleman was tossing his lunch next to the cafe table by which he sat. Poor guy just kept puking. All I could think was "Man, if that was my restaurant I sure wouldn't want a guy puking at the table. It's bad for business." I hated myself for thinking that, but I guarantee you everyone walking past was thinking the same thing. And now you are.
The man recovered and needless to say I called it a day and headed home.